Virtual Learning & Development workshops
Remote Team Performance
A solution for your organisation to keep your teams engaged & performing. The world has changed and so have our work practices. This evolving reality has created new challenges, with teams needing to rapidly adapt to maintain productivity.
World class content  |  Practical learning outcomes  |  Online interactive format
Outcomes for you
Our Remote Team Performance Workshops are a solution for your organisation with practical, applied learning frameworks and tools you can use at a team level to help everyone reconnect and recommit, enhancing productivity and engagement in a remote work environment.
With evidence-based content grounded in best practice, the workshops feature engaging delivery that puts fun at the forefront to ensure information is retained beyond the session. With a proven format, these workshops will help you navigate a practical pivot in the way your team works, ensuring the new normal is one that continues to deliver.
Give your team the tools, insight and empathy to connect and  cultivate success habits that support your business through the current climate and beyond.
How we deliver
With evidence-based learning outcomes delivered in a fun and fast-paced 90-minute format, these workshops offer the space, tools and training to empower your team to supercharge their remote productivity with enhanced connection and understanding.
We do this by activating the content – bringing information to life by helping your team create personal connections to important concepts.
Workshops are hosted on video call (preferred: Zoom) with out unique interactive format built right in. Your team will be highly involved through activities, reflections and team insights.
At a glance
Address specific pain points of your teams with a customised set of workshops that can be delivered solo or as part of a series.
Adapting leadership to manage remote teams effectively
—
Performance driver: Management
Enhancing communication within dispersed teams
—
Performance driver: Communication
Increasing emotional intelligence part 1: self-regulation
—
Performance driver: Self-efficacy
Adapting team culture to keep people connected
—
Performance driver: Culture
 Managing stress and ambiguity in a constantly changing world
—
Performance driver: Mindset
Increasing emotional intelligence part 2: motivation
—
Performance driver: Motivation
Not sure where to start?
Need help identifying what's most needed for your team? A great place to start is a quick organisation "pulse-check" of your staff to identify where challenges are most significant.
The 5 minute Remote Performance Pulse Survey of your staff will provide more up-front data for your leadership team. Using a tested format and rich results visualisation, we'll outline your results and suggest a plan tailored to your team's needs.
Adapting leadership to manage remote teams effectively
Unlocking innate strengths with emotional intelligence to lead teams to success by unleashing potential in uncertain times.
Common team management issue identification
Personal leadership profile
Identified biases and strengths
Adaptive management frameworks
Weekly team reflection tools
Adaptive leaders use their strengths and high EQ to unleash potential in others.
This workshop focuses on how managers can practically adapt communication, decision-making and project management to suit remote work, based on insights about ourselves and others.
Building on leadership and emotional intelligence foundations, this workshop steps beyond the individual leader to challenge mindsets around working with diversity and ambiguity.
With a range of self-reflection, practical exercises, case studies and management frameworks, this workshop is guaranteed to get people thinking differently about how to lead, manage and motivate remote teams.
Adapting team culture to keep people connected
How we work is changing, has your team culture adapted? Connect and motivate your team by uncovering the hidden challenges that lead to new opportunities.
Team culture health check
Understanding the '5 do's' of workplace culture
Identified strengths and opportunities of your team culture
Action plan to kick off culture and connection that will work for your team
Individual commitment to a group effort – that is what makes a team work.
– Vincent Lombardi
Based in the foundational principles of positive work culture, this workshop starts with a culture health check diagnostic to surface hidden issues, strengths and priority areas for discussion..
This workshop will give your team the space to cross check how your culture is playing out in the remote environment. With a lively facilitation approach, the session explores the personal and team impacts of reduced face-to-face work, which if left unchecked can have emotional and financial consequences for your team and business.
Working together to build an action plan that goes beyond 'surviving' the crisis to laying the foundation for successful transition back to the office. Giving your team a sense of ownership of their next steps goes beyond creating purpose, enhancing motivation and productivity.
Enhancing communication with dispersed teams
Effective communication is a cornerstone of workplace culture, productivity and employee satisfaction.
Individual communication profiles
Practical guide to communicating effectively with other profiles
Creative solutions to increase incidental communication
Using diversity of communication style to enhance team performance
Refocusing and being a little more deliberate about how you communicate is even more important currently with teams working remotely – this changed situation impacts each team member differently.
– Bendaly: 2020
Remote work leaves widening gaps for miscommunication, video conferencing fatigue and waning productivity.
This fun and insightful workshop helps your team to understand their own communication style – and the styles of those around them.
With engaging activities that demonstrate the opportunities (and potential tensions) that come from adapting how we communicate, your team will be equipped with the tools to relieve frustrations commonly arising from reduced face-to-face contact.
Prioritising understanding what it takes to communicate well within the workplace is a vital element in moving teams forward in all areas.
Managing stress and ambiguity in a constantly changing world
Developing the mindset needed to work effectively in ambiguous environments is one of the greatest skills for the modern workplace.
New perspective on working with ambiguity
Practical tools and processes to manage change and uncertainty
Personalised framework to manage the stress that comes from change
Being comfortable and confident in times of change and uncertainty is a skill that will pay off many times over for your people.
Change is inevitable at the moment – but dealing with it makes many uncomfortable.
Traditional ways of working mean teams are not necessarily set up to thrive in these circumstances. Even beyond the current climate, the ability to adapt to change is a key skill for all employees.
This workshop will expose your team to the the tools, techniques and approaches that can be used to become more confident when dealing with ambiguity and working effectively in VUCA (volatile, uncertain, complex and ambiguous) environments.
From learning about situations you can and can't control to confident decision-making and effective communication, having a core toolkit for dealing with ambiguity is an essential skill.
By normalising change and providing a pathway through, we will also explore the impact of stress and reduction techniques.
Increasing Emotional intelligence pt 1. self regulation
Declining mental health in isolated workers has been identified as 'the second pandemic' that workplaces need to address, and quickly.
Understanding of Emotional Intelligence in the workplace
Self-awareness framework
Personalised self-regulation plan to manage emotional states
90% of top performers have high EQ1, a capacity that can be cultivated to be a huge organisational advantage. 
With the new challenges facing our teams, understanding how to identify and manage individual emotional states is more important than ever. Emotional intelligence is a skill – and like any other skill, improvements come with training and practice.
This workshop provides an understanding of emotional intelligence and how building this skill starts with self-awareness and self-regulation.
By introducing your team to easy-to-use tools to practice self-awareness, they will develop a personalised self-regulation toolkit that can be used everyday to enhance emotional well-being.
Your team will also discuss and develop the right team toolkit required to normalise this skill within your culture, supporting ongoing use and development. With these tools your team will be set up to manage emotional states in order to remain productive in the work (and work-from-home) environment.
Increasing Emotional intelligence pt 2. motivation
Self-regulation and motivation hacks to keep teams performing at work (and work from home)
Understanding internal vs external motivation
Framework to hack your motivation and productivity
Tools to continue to ensure motivation and creativity are active as a team
With rapidly established protocols for working from home largely in place, the next challenge for many is ensuring productivity and motivation from their newly remote workforce
Does your team have a hard time staying on task? Is your business fighting a losing battle against the couch and Netflix?
This practical workshop explores personal motivation triggers, how to hack flailing motivation and what motivation looks like as a team.
Those with the ability (learned or innate) to manage their self-motivation are skilled in delaying gratification and stifling impulsiveness, and have a tendency to be more productive and effective in tasks. This workshop guides employees through the process of marshalling emotions (presently fraught from disaster fatigue and lockdown limitations) in the service of team and personal goals.
When motivation and productivity are genuinely activated, the satisfaction of work and team follow, combating many of the struggles and issues employees are facing the new remote work environment.
Delivery format
1.5 hour hosted virtual workshop with dynamic, activated learning.
Built around interactive activations, these virtual workshops are hosted by one of our highly skilled facilitators via Zoom call.
Learning is activated when people are engaged. To embed learning, people need to make personal connections to engaged content. This is even more true when looking at online facilitated learning.
We deliver powerful learning outcomes by helping your people create personal connections to engaged content.
This is where our facilitation methodology comes to the fore. With story telling, a strengths based approach, dynamic workshop exercises and social learning, Directors of the Extraordinary has a a proven and fresh approach that will drive real outcomes for your team.
Armed with practical tools, your people will walk away with insights into their own strengths and weaknesses as well as a formulated path to further their learning.
Get a free quote for Online Team Performance workshops
To receive your obligation-free, tailored quote, fill out this form and we'll be in touch within 1 business day. If you prefer to chat, give us a call on 1300 736 441.
Download our Online Learning & Development brochure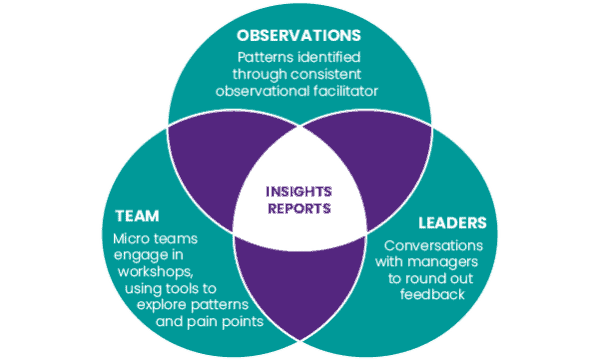 Hidden value worth its weight in gold: Cross-cutting insights
Uncover hidden issues and patterns across your organisation through the Remote Team Performance Feedback Loop.
Without eyes on your people in the traditional form, it can feel like stumbling in the dark when it comes to gauging productivity, motivation and management needs. As we facilitate these workshops, we collate data points to highlight real time challenges your organisation is experiencing.
With an easy-to-understand report highlighting patterns, challenges and strengths to inform future management, you'll take away so much additional value for helping your team navigate the new normal.
Theory heavy, boredom light
Our learning and development offerings draw on world class theory and use our secret sauce to bring it alive.
Best in class theory, research and frameworks from around the world
Case studies and real-life stories of success and failure
Integrated use of profiles and diagnostics
Every event is as unique as you, so to ensure you get the best possible price tailored for your needs, we provide obligation free quotes. Our pricing is generally structured into brackets depending on how many people you have. Get your quote now.