Trivia nights with extra awesome
Twist up an old classic with 6 rounds of head scratching laughs. Gather your team together for this interactive, puzzle-based, media rich take on everyone's favourite social activity. Perfect for any social occasion, Twisted Trivia gets everyone laughing (and shouting answers too loudly!).
Get people talking & laughing  |  Closer social bonds  |  Opportunity to network
The trivia challenge twisted like never before
Laugh and heckle your way to victory in a challenge of knowledge and wits.
From the quiet observer to the competitive extrovert, Twisted Trivia is the perfect event to engage absolutely everybody. With twists and turns that give everyone a chance to get involved (and a broad spectrum of questions that will challenge the whole team), this is the perfect corporate trivia event to engage the whole room by keeping fun front and centre.
A social activity that fits into many formats:
Parties
Team Building days
Networking Functions
Get a free quote for Twisted Trivia
To receive your obligation-free, tailored quote, fill out this form and we'll be in touch within 1 business day. If you prefer to chat, give us a call on 1300 736 441.
6 question rounds
With trivia topics such as movies, music, celebrities and pop culture, there are questions for everybody.
Solve the puzzles
As well as trivia questions, teams are challenged with physical, hands on puzzles to earn bonus points!
Sabotage your competition
Gain an advantage by playing a sabotage on your opponent, hampering them for a round.
Climb the leaderboard
A live digital leaderboard will show who's winning and who needs more practice.
Fun is the name of the game
It's hard not to have fun in this twisted classic crowd pleaser. With fast paced action of trivia questions, challenges, sabotages, bonuses and surprises, there's something for everyone to love. Our charismatic hosts ensure that the challenge is perfect and fun is high.
Universally engaging
A big challenge of social events is making sure everyone enjoys them. It's a challenge we thrive on because that's our specialty. With a specifically crafted mix of topics, challenges and interactions, this is an event that will ensure that nobody will be bored or left out.
Impressive Technology
To ensure that your event is focussed on the fun and not the logistics, we use the latest technology to digitise answering questions, scoring and leaderboards. Our custom built app is as impressive as it is easy to use. We even bring all the tablets.
Achieving social bonding & networking
Twisted Trivia is guaranteed to get your guests mingling, laughing and learning more about each other. Dripping with conversation starters, your guests will have all the opportunity they need to have a great time and get to know each other.
Recommend it for any age group

"Fantastic, it was different, exciting and challenging at some points. It was an all round fun night and I'd recommend it for any age group!"
Everyone had so much energy!

"Tonight's event was heaps of fun. Very interactive and everyone's got so much energy and I'd definitely recommended it to anyone who wants to hold an event like this!"
Every event is as unique as you, so to ensure you get the best possible price tailored for your needs, we provide obligation free quotes. Our pricing is generally structured into brackets depending on how many people you have. Get your quote now.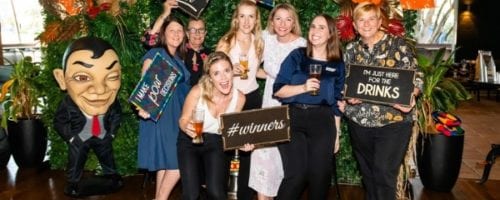 Photo Wall
This fun pop up option is themed for your experience and includes a range of funnies.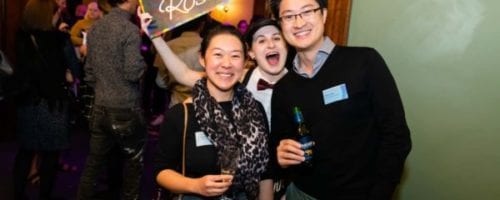 Interactive Photographer
Your guests will be entertained as a roaming photographer and theatre-trained side-kick makes sure they are looking suave! Creating genuine engagement and moments of laughter, this 3 hour Interactive Photographer package will result in a well rounded and fun series of photos.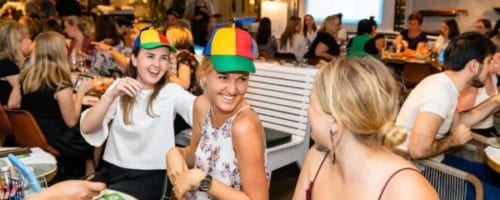 Videographer Package
Capture the moments of wonder, human interaction and of course, fun, with a videographer for up to 3 hours at your event. This includes a 90 second event clip.
Way beyond regular trivia
Over crowd pleaser trivia rounds and mind bending challenge rounds, your guests will compete in teams to take out the winners cup. Using the latest technology, teams will have their own tablet with a variety of video, music and interactivity to spice up the experience. A live leaderboard, hands on puzzles and all-in challenges makes this truly a twisted version of the old classic.
Surprising with many laughs
Designed to surprise and delight, there is something for everyone in this game of strategy, general knowledge and inter-team fun. Being able to mess with other teams guarantees many laughs.