Time is tick, tick, ticking!
The pressure is on to disarm the bomb before it goes off, and beat your competition to it!
Strengthen social bonds  
|

  Build skillsets  

|

  Practice creative problem solving
Just like in the movie, you've got a bomb to disarm.
Bomb Squad is a movie come to life, making your people feel right in the middle of the action.
This experience is designed to unite, challenge and grow your team through fun collective problem solving. Follow the clues and work out how to disarm the bomb before the time runs out.
With the right amount of pressure, fun and challenge this experience will bring out the best in your team. Fully hands on, your team will need to solve the challenges, keep time and balance resources to come out as the winners!
Stepping out of normal work mode and into the immersive world of Bomb Squad allows for people to build skillsets such as communication, leadership, problem solving and conflict resolution in a less confronting environment.
Plus with movie quality props, engaging facilitators and the title of winners up for grabs, they'll have a blast in the process!
A team building activity that fits into many use formats:
Conferences
Social events
Team Building days
Get a free quote for Bomb Squad
To receive your obligation-free, tailored quote, fill out this form and we'll be in touch within 1 business day. If you prefer to chat, give us a call on 1300 736 441.
Puzzle out the bomb
A fully tactile bomb needs to be disarmed. Solve the puzzles to save the day!
Manage your time
Time is limited but you can earn more through the market... balance your efforts wisely.
Buy, trade, swap artefacts
Rare artefacts will help you solve more puzzles and gain more time, how you acquire them is up to you.
Race to victory
Multiple teams are racing to disarm their bomb the fastest. To win you'll need your wits about you!
Fun & immersive
Bomb Squad is like being in the middle of a movie. Your people will be immersed into the action in an incredibly fun team building event through the hands-on props, engaging facilitators and fierce but fun competition.
Rich in insights
With just the right amount of challenge and frustration, Bomb Squad creates a rich experience to explore topics that require attention for individual and teams. Themes can be drawn out with group and self reflection or pair it with Personality Profiling for even more learning.
Gets everyone involved
The unique mix of competition, challenges, laughs and mystery is a powerful recipe for engagement. Even those who don't like team building are bound to be swept up in the fun. Plus the variety of happenings will keep all ranges of people involved.
Building skill sets
This team challenge will take teams out of the day-to-day and allow them to practice all the skills they need for success. Creative problem solving, communication, leadership, critical thinking will all come into play. The best teams are the ones who harness all their individual talents.
Made sure it was perfect.

"DoE have always done an amazing job and created a great atmosphere. The set up, costumes, gadgets and actors are done extremely well. From behind the scene they are very responsive and cater to all your needs to make sure the event is perfect and runs smoothly."
Fantastic team building experience

"The event was organised and conducted professionally. It was not only fun, but a great way to get to know team members better, as well as learn how to work with different personality types. Overall a fantastic team building experience."
Every event is as unique as you, so to ensure you get the best possible price tailored for your needs, we provide obligation free quotes. Our pricing is generally structured into brackets depending on how many people you have. Get your quote now.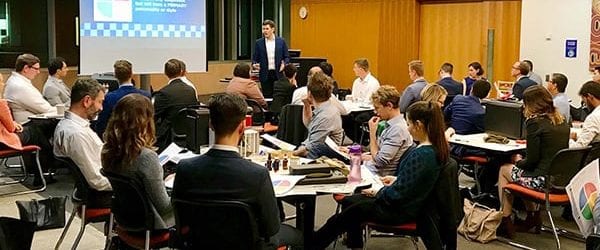 Extended Debriefs
Deep dive into a topic of your choice with a debrief off the back of our team building experiences to really harness the power of interactive learning. Debriefs go for 30 minutes.
Select from:
Collaboration & healthy competition
Responses to stress & how to overcome them
Problem solving under time constraints
Negotiation & leveraging relationships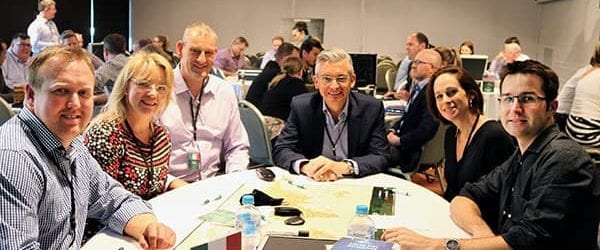 Personality Insights
Profiling is a powerful tool used to accelerate learning & understanding of working preferences, communication styles and natural skill sets.
A facilitated discovery session will go into detail about personality types, how these played out in the simulation, lessons that can be drawn and how an awareness of personality types can aid in day-to-day team dynamics.