Wall Street meets the UN
Fast, dynamic and exciting, Bullpit is a stock trading inspired game that challenges teams to make as much money as they can. Sounds simple, but what will they do when the rules change, when the stakes rise, when the competition peaks?
Uncover hidden strengths  
|

  Practice negotiation  

|

  Practice building strategy
Step onto the trading floor. It's time to play.
Throw your hat in the ring for an hour of frenzied fun.
Bull Pit is a quick moving game where the intensity of adapting and negotiating for resources will bring out the skills, talents and team work of your colleagues. Simple to understand, simple to play, but difficult to win, this simulation will challenge your team while being super engaging and fun.
Simulating the ever changing and notorious 'bull pits' common in Wall Street, each team will be charged with securing the resources their country needs in an ever changing market. Each team starts with a pack of resources they need to use to produce items they will sell to the market at fluctuating prices. It's up to them how they achieve their goal and how they negotiate with other teams.
Curve balls are constantly thrown into the mix with changing market trends, forcing the teams into creative problem solving, adapting strategy and navigating challenges that are experienced in our daily changing world. Resource tallies are kept constantly up to date with integrated technology and a live leaderboard.
A team building activity that fits into many use formats:
Conferences
Social events
Team Building days
Get a free quote for Bullpit
To receive your obligation-free, tailored quote, fill out this form and we'll be in touch within 1 business day. If you prefer to chat, give us a call on 1300 736 441.
Make resources
Use what you've been given to make resources, each of which will earn you a different amount on the market.
Trade for money
Sell your resources to the market at the going rate, but be careful, the market is volatile - what's your strategy going to be?
Adapt to a dynamic market
Rules are set, but will they stay that way? Be responsive to changing circumstances.
Negotiate & strike deals
Not all teams may start on a level playing field. Negotiation, trading & striking deals will be necessary.
Effective & (seemingly) simple
Bullpit is designed as a quick-fire, easy to understand experience. However, what seems straight forward to begin with quickly evolves into a strategic challenge as curve-balls are thrown and the market becomes unpredictable.
Real time insights
Draw on happenings from the experience to debrief learnings, base line behaviours and group dynamics. Bullpit creates a rich pool to dip into to explore the the topics relevant to your team. Pair it with Personality Profiling for even more learning.
Engagement to the core
People can't help but get engaged in the fun of Bullpit. With a smart mix of competition, inter-team dynamics and quick wins, it has something to engage even the most skeptical about team building. Learning happens naturally when engagement is high.
Rich in skill development
Teams will be taken out of their normal work environment to practice the skills they need to succeed, then integrate them back into their work. Adaptability, negotiation, team work, strategy & problem solving – all necessary to win Bullpit and succeed in life.
Made sure it was perfect.

"DoE have always done an amazing job and created a great atmosphere. The set up, costumes, gadgets and actors are done extremely well. From behind the scene they are very responsive and cater to all your needs to make sure the event is perfect and runs smoothly."
Fantastic team building experience

"The event was organised and conducted professionally. It was not only fun, but a great way to get to know team members better, as well as learn how to work with different personality types. Overall a fantastic team building experience."
Every event is as unique as you, so to ensure you get the best possible price tailored for your needs, we provide obligation free quotes. Our pricing is generally structured into brackets depending on how many people you have. Get your quote now.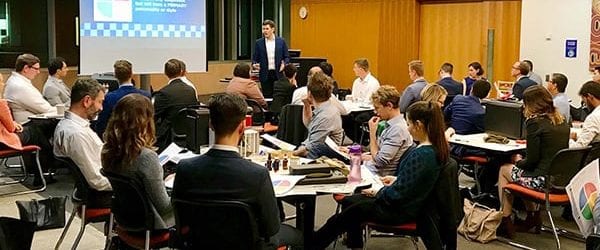 Extended Debriefs
Deep dive into a topic of your choice with a debrief off the back of our team building experiences to really harness the power of interactive learning. Debriefs go for 30 minutes.
Select from:
Collaboration & healthy competition
Responses to stress & how to overcome them
Problem solving under time constraints
Negotiation & leveraging relationships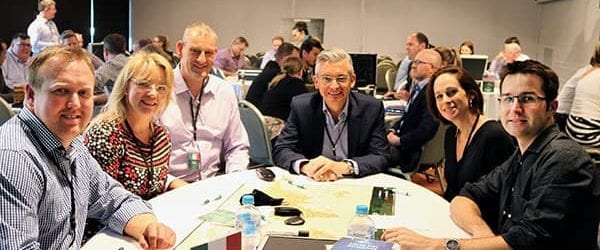 Personality Insights
Profiling is a powerful tool used to accelerate learning & understanding of working preferences, communication styles and natural skill sets.
A facilitated discovery session will go into detail about personality types, how these played out in the simulation, lessons that can be drawn and how an awareness of personality types can aid in day-to-day team dynamics.