A Casino night with the fun and excess of the 1920s
This is a 1920s casino party night where you roll the dice. Gamble & glitz your way to victory in a heady night of raucous gambling, underhanded dealings and hidden puzzles. The Gatsby Gamble thrusts you into the pulsing heart of this bygone era.
Celebrate in style 
|

  Closer social bonds 

|

  Opportunity to network
Discover the fun & mystery of a Gatsby party
A casino night where you roll the dice
Are you going to play your cards straight or meddle in backhanded deals? With millions to win and lots of ways to do so, this casino themed night will cater to everyone's style. Who will walk away from the biggest auction of the year filthy rich?
A social activity that fits into many formats:
Cocktail Functions
Gala Dinners
Networking Functions
Get a free quote for Gatsby Gamble
To receive your obligation-free, tailored quote, fill out this form and we'll be in touch within 1 business day. If you prefer to chat, give us a call on 1300 736 441.
Gamble to glory
Use your Gatsby casino chips to verse Gatsby's dealers, earning as much coin as possible at the variety of gambling stations.
Unravel the mystery
There is art on display, but not all of it is genuine. Find and solve all the hidden clues to identify what's real and what's not.
Beg, bribe or steal
Form alliances and trade secrets. Collecting the right cards and information can gain you a big advantage.
Win the fortune
Use your gambling winnings to bid against other players in an art auction that will crown the ultimate winners.
Genuinely incredible fun
You and your guests will be swept away in this night of energy, excitement and frivolity. With charismatic characters to gamble against, mysteries to unravel, deals to strike and a fortune to win, there will be something for everyone to enjoy.
Guests choose how they get involved
The Gatsby Gamble is a smorgasbord of activity, all catering to different interests. This allows your guests to choose how they want to be involved. And in the rare circumstance that they don't want to be, no problem!
Like nothing seen before
The Gatsby Gamble is a brand new format of event experience that will blow your guests socks off. The unique mix of theatre, gaming and style is guaranteed to be a topic of conversation long after the night is finished.
Flexibility built in
No matter how or where you want to run your event, the Gatsby Gamble will likely fit right in. From cocktail functions to your backyard, the requirements are low but the fun sky high.
Made sure it was perfect.

"DoE have always done an amazing job and created a great atmosphere. The set up, costumes, gadgets and actors are done extremely well. From behind the scene they are very responsive and cater to all your needs to make sure the event is perfect and runs smoothly."
Never cease to impress!

"Highly recommended these guys for your next corporate event. We've used them last year for The Gatsby Experience - never cease to impress! The whole team was excellent to work with and we look forward to working together again for future events."
Every event is as unique as you, so to ensure you get the best possible price tailored for your needs, we provide obligation free quotes. Our pricing is generally structured into brackets depending on how many people you have. Get your quote now.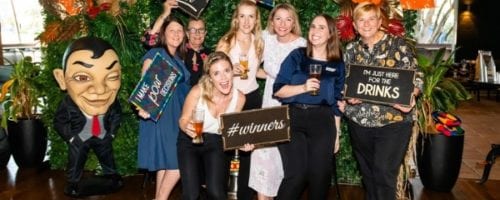 Photo Wall
This fun pop up option is themed for your experience and includes a range of funnies.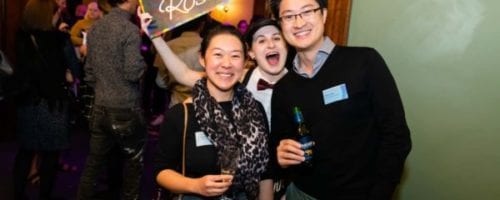 Interactive Photographer
Your guests will be entertained as a roaming photographer and theatre-trained side-kick makes sure they are looking suave! Creating genuine engagement and moments of laughter, this 3 hour Interactive Photographer package will result in a well rounded and fun series of photos.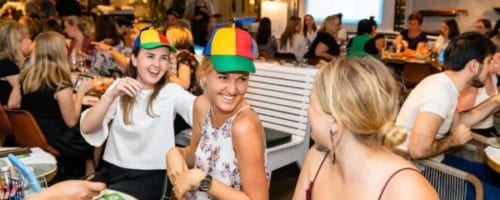 Videographer Package
Capture the moments of wonder, human interaction and of course, fun, with a videographer for up to 3 hours at your event. This includes a 90 second event clip.
Fun, glamour and casino games everywhere you look
Injecting a whole lot of fun into your special occasion, the Gatsby Gamble is guaranteed to have your people laughing, socialising and involved, drawing even the most sceptical into the glamour and party of the 1920s. Plus who can't help but have a little (or big) fling at a casino table when the money lasts for one night only.
Uniquely different, uniquely fun
With charismatic characters to interact with, gambling and casino games galore and activity everywhere you look, this is a highly engaging experience that will wow your guests. Your guests will love exploring the world of the Gatsby Gamble casino.