Fun and learning coexisting to bring company values to life
A large coal shipping company launched their new company values in a way that created personal connection and real integration through a interactive workshop.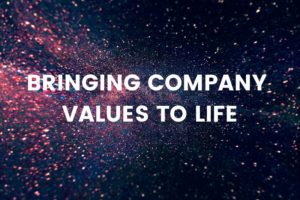 A coal shipping company had finished the process of reviewing their company values to take their organisation to the next level. They were looking for an innovative and fresh approach to launching these values through their whole organisation. They wanted to ensure these values became a living part of their organisation rather than token words on the wall.
Participants:
Mackay, 65 (over 2 sessions)
Brisbane, 35 (over 2 sessions)
Workshop Delivered:
Reconnecting with company values
What they were looking for
We were originally talking to this company about a leadership conference activation. However, we soon understood that they had a more immediate need in figuring out how to launch their new company values in a way that would have a lasting effect and integrate these values in a meaningful way. These values are important for the organisation who work across a large range of disciplines and locations as well as have a lot of direct interaction with the community. Success meant each employee had a good understanding of the new values, how they impacted their daily work and how they impacted decision making within the organisation.
What we did
We worked closely with their HR team to ensure that the workshops we were designing would equal the success metrics for their organisation. We spoke directly to the CEO to build rapport and a deeper understanding of his broader goals within the organisation and how this piece of work could support that.
After designing the workshop, we ran it for the Executive Team to road test it and adjust any components to match the needs of their diverse employees. We also designed a light introduction set of interactive activities as a one-hour workshop with their Board to bring them on the journey and invite them to the bigger workshops with the employees. Both of these sessions were well received, and each Board member committed to attending a full workshop with their employees.
Over four days in November we ran consecutive workshops for their entire workforce to bring the new company values to life.
The workshops
GOALS:
Create personal connections between employees and company values
Have three identified actionable learnings for each employee
Create greater team culture through shared experience and having fun
We were conscious that this was mandatory training for each employee, so we needed to immediately change the expectations of what this workshop was going to look and feel like to overcome assumptions and disengagement as quickly as possible. We were able to do this by running a competition-based team activity within the first 10 minutes that required each team to name themselves inspired by surviving the zombie apocalypse. By shocking people out of their daze we were able to bring an air of creativity and vibrance to the room. You could see the energy in the room change from cross arms and disengaged looks to laughter, engagement and personal sharing. This activity was also designed to normalise company values and showcase the role they play in the biggest brands. This proved our ultimate strategic goal – it is possible to have fun and learn!
From there we led the group through individual and team activations that created personal links to the company values, identified where the company values were already at play and what were the opportunities to integrate them more. All in creative, out of the box ways that did not feel like work or were frustrating to complete.
After lunch we ran our simulation Mastership Game to showcase baseline behaviours that either aligned or did not align with the company values, how framing a project or problem can influence behaviour and to build team through achieving something completely out of the norm together.
We finished each workshop by identifying three learnings and three action points for each person to take into their professional development plan. For us, it is always important for participants to learn within the workshop, but more importantly be able to take away learnings into action to continue the impact this investment has.
Outcomes
The company created a feedback survey that each participant completed.
The overall rating of the workshops was 92%
95% of participants reported that they understood the company values extremely well or very well
92% of participants rated the workshop as very engaging or extremely engaging
98% reported that the workshop contained the right amount of information
80% reported they were very likely or extremely likely to use the material in their role
78% reported the training material was extremely relevant or very relevant to their role
In the last workshop the CEO pulled our facilitator aside and shared that as he was walking the corridors of the office the afternoon prior there was high energy, laughter and real camaraderie between employees who had just completed the training. This was not something he had encountered in this way before. The board members who attended the training were extremely complimentary, expressing they have never experienced a training workshop that was this engaging and effective in bringing content to life in a way that could be understood by everyone from executives to support staff.
The company has now engaged us to run their next set of workshops which are their mandatory training around Bullying, Harassment and Discrimination. The next challenge – how to make that topic fun and engaging. Confidence we can achieve this – 100%.
Ready to chat? We'd love to help!