For when your chocolate obsession is more than a game
Chocolate cravings are real. Very real. Your chocolate obsession is our now a part of our ever-popular Taste Masters series with an experience that takes crafted cocoa creations to the next level.
Celebrate in style  |  Closer social bonds  |  Opportunity to network
Contagiously fun chocolate tasting
A universal favourite for a universally good time
The food of the gods is named as such for a reason – it gives us chocolate. Taking this heavenly delight to the tasting table, your guests are sure to be delighted and surprised as they taste delicious chocolates in an innovative experience format.
A social activity that fits into many formats:
Cocktail Functions
Gala Dinners
Networking Functions
Get a free quote for Addicted to Choc
To receive your obligation-free, tailored quote, fill out this form and we'll be in touch within 1 business day. If you prefer to chat, give us a call on 1300 736 441.
How Addicted to Choc works
Blind taste chocolates
Blind taste a curated flight of tasty chocolate, showcasing the variety available.
Identify the answers
Answer a series of questions for each chocolate; you'll earn points depending on how correct you are.
Sabotage your competition
Gain an advantage by playing a sabotage on your competition or cashing in a free answer for yourself.
Climb the leaderboard
A live digital leaderboard will show who's winning and who needs more practice.
Hand crafted chocolate creations
Chocolate comes in such a variety of forms. White, dark, milk, berries, nuts, infused… Addicted to the Choc brings hand-crafted chocolate creations to life in a format that you can't help but to love. Using only the highest quality brands and some truly surprising variations you can be sure there will be something for everyone!
Not your ordinary tasting
Taste Masters is never just about a tasting. You can be sure your group will learn a thing or two about chocolate but there is also a competition to be won. Designed to get people talking, laughing and competing, you will see chocolate in a new way by the end of the tasting.
So interactive & so much fun!

"Oh wow what a night, it's been so interactive, so much fun, very relaxed, not forced, not where I have to talk to the person next to me but I want to and introduce myself but it's all happening very naturally and I feel like it's so much fun."
Highly recommend it

"Tonight's heaps of fun, very interactive and everyone's got so much energy and I'd definitely recommended it to anyone who wants to hold an events like this!"
Every event is as unique as you, so to ensure you get the best possible price tailored for your needs, we provide obligation free quotes. Our pricing is generally structured into brackets depending on how many people you have. Get your quote now.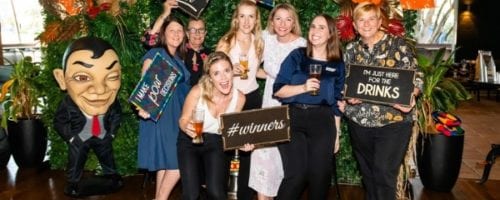 Photo Wall
This fun pop up option is themed for your experience and includes a range of funnies.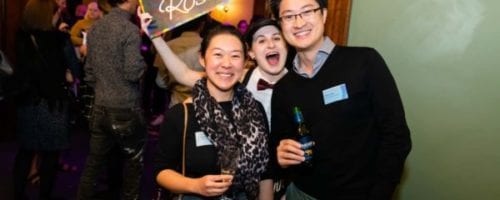 Interactive Photographer
Your guests will be entertained as a roaming photographer and theatre-trained side-kick makes sure they are looking suave! Creating genuine engagement and moments of laughter, this 3 hour Interactive Photographer package will result in a well rounded and fun series of photos.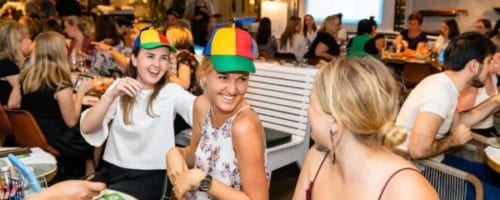 Videographer Package
Capture the moments of wonder, human interaction and of course, fun, with a videographer for up to 3 hours at your event. This includes a 90 second event clip.