A neat way to savour the best of whiskey
Whiskey is a beverage best savoured, discussed and considered. With a clever and classy whiskey tasting format that will challenge even the most devoted fans, Whiskey Business will have your guests swirling a glass and reminiscing for weeks to come!
Celebrate in style  |  Closer social bonds  |  Opportunity to network
Contagiously fun whiskey tasting
Demystify the world of whiskey and have a blast doing it.
Dive into the delicious world of whiskey with a tasting that will engage your audience from the first moment. Whiskey Business is a sophisticated yet accessible experience over blind tasting rounds through which your guests will be surprised and delighted until the last sip.
A social activity that fits into many formats:
Cocktail Functions
Gala Dinners
Networking Functions
Get a free quote for  Whiskey Business
To receive your obligation-free, tailored quote, fill out this form and we'll be in touch within 1 business day. If you prefer to chat, give us a call on 1300 736 441.
How Whiskey Business works
Blind taste whiskeys
Blind taste a curated flight of beautiful whiskeys, showcasing the variety available.
Identify the answers
Answer a series of questions for each whiskey; you'll earn points depending on how correct you are.
Sabotage your competition
Gain an advantage by playing a sabotage on your competition or cashing in a free answer for yourself.
Climb the leaderboard
A live digital leaderboard will show who's winning and who needs more practice.
Distilling the best into a unique whiskey tasting
Whiskey has a 500 year old history of artisanal refinement that lends itself perfectly to an intricate tasting experience. In Whiskey Business you will be challenged to go beyond the typical dimensions of aroma and taste to consider the breadth of attributes that make Whiskey a royal beverage of choice. With a range of flights, ask about the variation that will work best for you.
Accessible yet complex
There is so much history, association and an aura of mystique to whiskey that makes it a natural collectors item. Whiskey Business is a format that retains all that complexity and distils it into a format that can be easily enjoyed by all. Along with an engaging host and a live leaderboard, this is an experience best savoured!
Thanks for a fabulous experience

"An absolutely extraordinary event - so much going on, lots of opportunity to connect, and ways for everyone to play to their strengths! Thanks for a fabulous experience - I definitely recommend"
Really impressed with the experience

"Just wanted to say a huge thank you, the event was wonderful and I've had great feedback. The team on the night were amazing, and everyone was really impressed with the experience."
Every event is as unique as you, so to ensure you get the best possible price tailored for your needs, we provide obligation free quotes. Our pricing is generally structured into brackets depending on how many people you have. Get your quote now.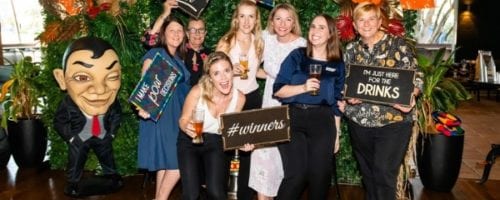 Photo Wall
This fun pop up option is themed for your experience and includes a range of funnies.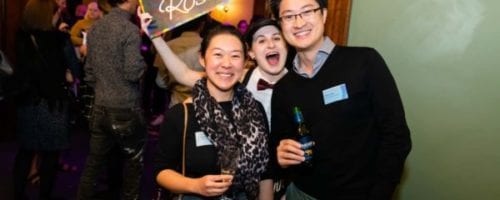 Interactive Photographer
Your guests will be entertained as a roaming photographer and theatre-trained side-kick makes sure they are looking suave! Creating genuine engagement and moments of laughter, this 3 hour Interactive Photographer package will result in a well rounded and fun series of photos.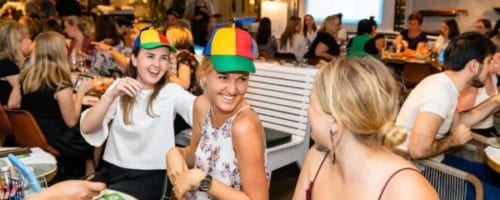 Videographer Package
Capture the moments of wonder, human interaction and of course, fun, with a videographer for up to 3 hours at your event. This includes a 90 second event clip.